Hokkaido Winter Festivals 2019

Welcome to Hokkaido in winter
A fantastic world decorated with snow and ice

Sapporo
1
Sapporo Snow Festival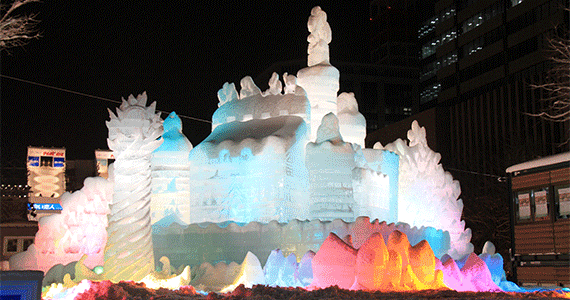 February 04-11, 2019.

At the center of Sapporo in Odori Park where crossing the city east and west,
you can enjoy giant snow statues for about 1.5 kilometers.
Ice sculptures are also displayed centering on the Susukino venue.
The artwork created carefully only by pure white snow and clear ice will be dismantled and put away
the next day after the closing ceremony. Approximately 2 million tourists from all over Japan and overseas visit.
Sapporo Snow Festival is one of the biggest events in Hokkaido.
Asahikawa & Sounkyo
Winter Festival
Snow Lights Zoo
Souukyo Hyobaku
2

Asahikawa Winter Festival

February 06-11, 2019.

One of biggest event in Asahikawa City is held in Heiwa-dori Kaimono Koen
/Asahibashi bridge Ishikari Riverside. Every year free shuttle bus leaves from
JR Asahikawa Station, Asahiyama Zoo and Asahiyama Snow Village.
The main events of Asahikawa Winter Festival are Giant Snow statues and ice sculptures.
Giant Snow animal statues of Asahiyama Zoo were made for 2019 celebrating it's
60th Anniversary. The Official World Ice sculpting competition is held at the same time.

3

Asahiyama zoo-Snow Lights Zoo

February 06-11, 2019.

Concurrent with Asahikawa Winter Festival, the night life of Asahiyama Zoo is an event where
you can experience animal's winter lifestyles surrounded by ice candles. During the event, zoo hours
are extended to 8:30pm and candles will be lit after 4pm. You can enjoy a different side of the popular
Asahiyama Zoo.

4

Sounkyo Hyobaku Festival

January 15- March 17, 2019.

Buildings made of ice are stationed. Sculptures of tunnels and ice are set up with objects designed with themes such as kamakura and nature. Among them, the observatory made of ice has a height of 15 meters and you can overlook the entire festival 360 degrees. In addition, "Hyobaku Shrine and offering box" made of ice are also set up where coins can be attached to ice. Various events such as: opening ceremony, ice storming drum performance, lottery picking, ice storm wedding and mochimaki are held. Fireworks event called the "Banquet of Fire" is also in the events.
Otaru
5
Otaru Snow Light Path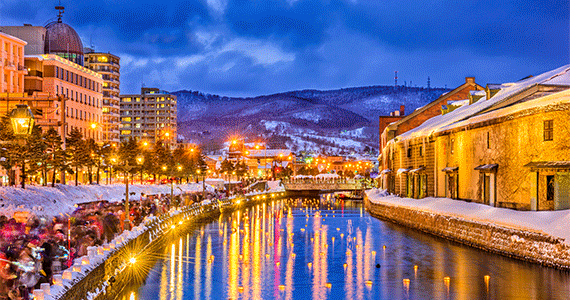 February 08-17, 2019.

Fantastic event where the candle's light gently lightens the old cityscape. From sunset to time when the neighborhood becomes completely dark, you can enjoy different expressions of the sky everyday because the atmosphere and weather. Event is held mainly at the Otaru Canal and Temiya Line venue. The candles such as Floating ball candle with an motif of an old fishing gear, a snow candle with soft light and objects at the Temiya Line venue are mostly hand crafted by volunteers. Asarigawa Onsen venue, Tengu mountain venue and Akari Road are also popular, and the warm lights of candles will welcome visitors
Hakodate
6
Hakodate Winter Festival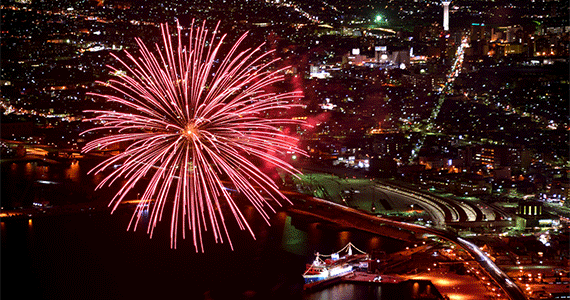 February 8-10, 2019.

The street of Hakodate full of foreign atmosphere in winter, creating a glowing light fantasy world. During the period various events such as "Hakodate Illuminations" where historical buildings in Motomachi area are lined with shining illumination and winter fireworks sparking in the clear night sky. A warm light envelops the city and you can fully enjoy the charm of winter in Hakodate.
Chitose
7
Chitose - Lake Shikotsu Ice Festival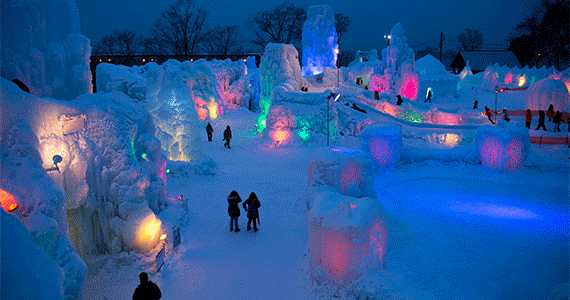 January 25- February 17, 2019.

This year marks the 40th year. Lake Shikotsu in luminous blue, a winter when the cold changes to joy. A winter festival representing Hokkaido, where large and small ice objects are freezed, sprinkled with a sprinkler at the Shikotsu Lake. In the day time, Shikotsu Lake shines in natural blue and in the evening it is illuminated with colorful lights producing a world of fantasy. During the period, we host many fun events such as fireworks festival and ice weddings. In addition, the venue inside shops sell hot drinks and food including original product "ice candies". Furthermore, there are high quality hot springs with different quality in the vicinity and you can warm up from the cold. Please visit Lake Shikotsu and the hot spots this winter season!
Tokachi & Obihiro
8
Tokachigawa Swan Festival Sairinka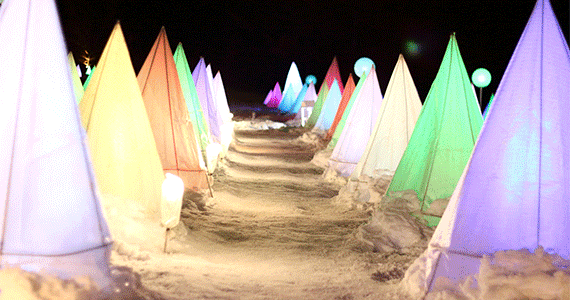 January 26- February 24, 2019.

Inexperienced winter entertainment
- Fantasic show of light and sound -
Tokachigawa Onsen which freezes to below freezing, The Great Pageant in winter night.
A festival held in honor of 1,000 swans flying every year to Tokachigawa Onsen.
A fantastic show that interlocks sound and light to produce a magical space. Before variety of events
your eyes will be filled with amazement.
*Disclaimer: Prices shown are lowest available room rates per person per night based on double occupancy as per 2019/01/16. Prices may vary from those listed above depending on room type, number of guests staying, schedule, and availability.Guest Rating is the summary result as of 2019/01/01. Please understand current dispay ratings may differ.