Sacred Sites and Pilgrimage Routes in the Kii Mountain Range
The ancient Japanese believed that gods reside in the Kii Mountain range. The believe has developed into a worship practice, and gave a beginning to the Kii Mountain range pilgrimages. The pilgrimage routes cover three sacred sites, Yoshino and Omine, Kumano Sanzan, and Koyasan, and came to be known as Kumano Kodo pilgrimage routes.

The Kumano Kodo pilgrimage routes are full of nature wonders.
Scenic countryside landscapes, mystic waterfalls, streams glinting with little sparkles, majestic old trees, and body and soul healing hot springs bring the visitors back to the enchanting world of the ancient Japan.

The Kumano Kodo pilgrimage routes were recorded as the 'Sacred Sites and Pilgrimage Routes in the Kii Mountain Range' on the UNESCO's World Heritage list on July 7, 2004.

Nara Recommended Route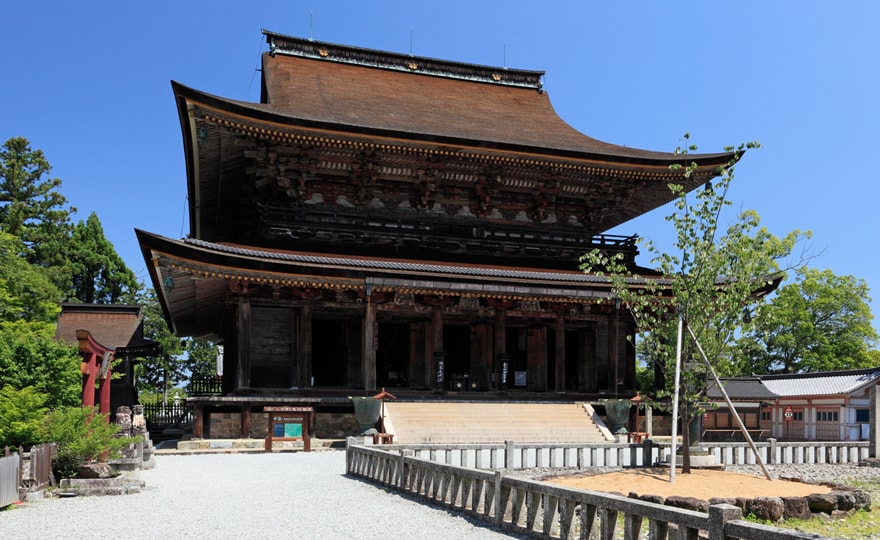 Kinpusen-ji Temple - Zaodou Hall
This temple is held to have been founded by ascetics and practitioners of magic on Mount Yoshino, long considered an ancient sacred site. This mountain is known as the traditional site of Shugendo practitioners. The Zaodou Hall of Kinpusen-ji Temple enshrines about 7m tall three ascetic figures along other statues of noble characters.
Photograph provided by: Nara Visitors Bureau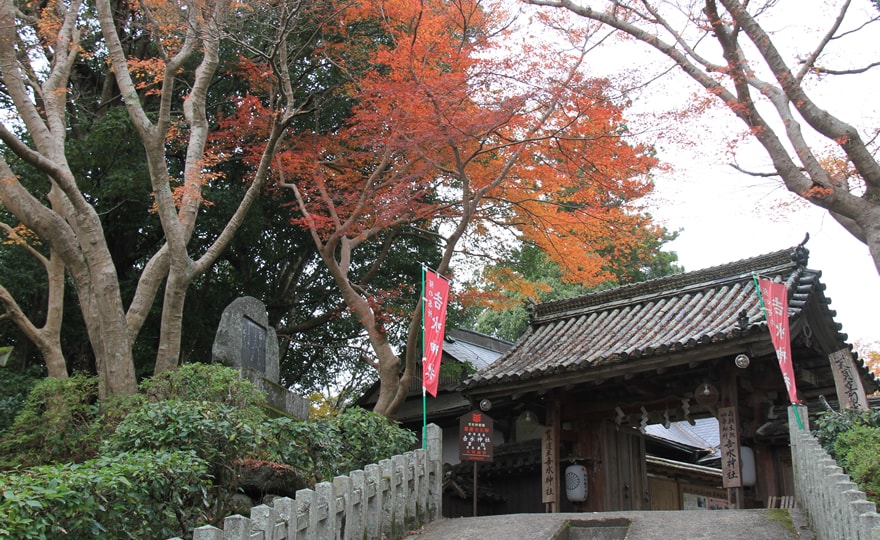 Yoshimizuji-Jinja Shrine
This site was originally a place where monks of the Shugendo faith trained. It slowly evolved over the years, and in 1875, it became the Yoshimizu-Jinja Shrine. The site also has a connection with famous figures like Minamoto no Yoshitsune, Benkei, and Toyotomi Hideyoshi, keep donations and mementos from them.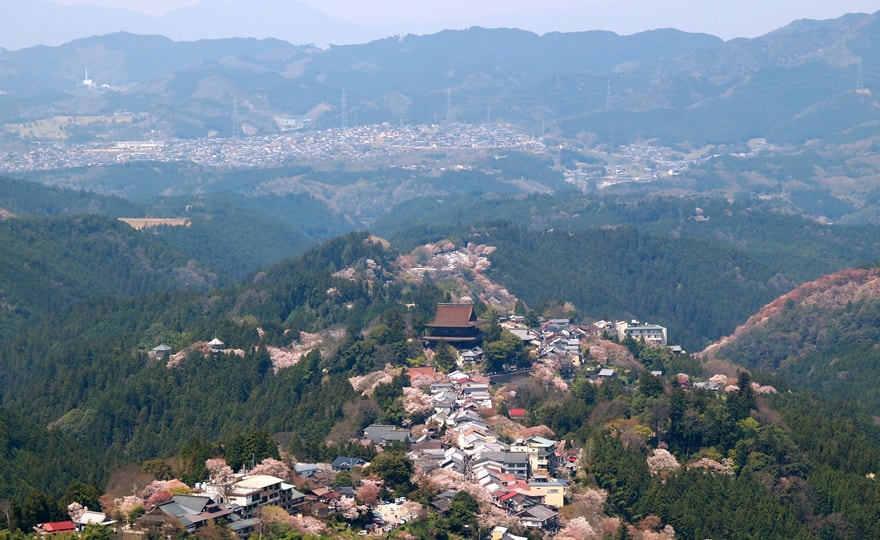 Hanayagura
This spot is considered finest observation point of Yoshino. The vast panorama below you stretches out as far as Mount Kongo, the border between Nara and Osaka. In spring, the area is covered with the pale pink of cherry blossoms.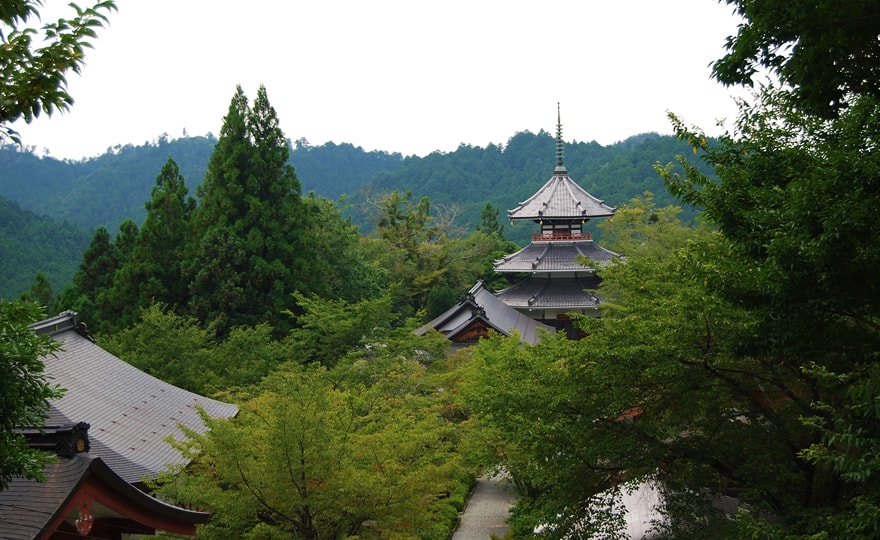 Yoshino Noutenookami Shrine
There is an story about Yoshino Noutenookami Shrine that a head monk who encountered a large snake with a fractured head felt sorry and assiduously read a scripture and prayed for its recovery, then the snake visited the man each night to thank him. This local deity is referred to as the "Brain of Deity in Yoshino" and beloved for protecting worshipers from brain and head injuries and ailments, as well as assisting students in succeeding in their studies.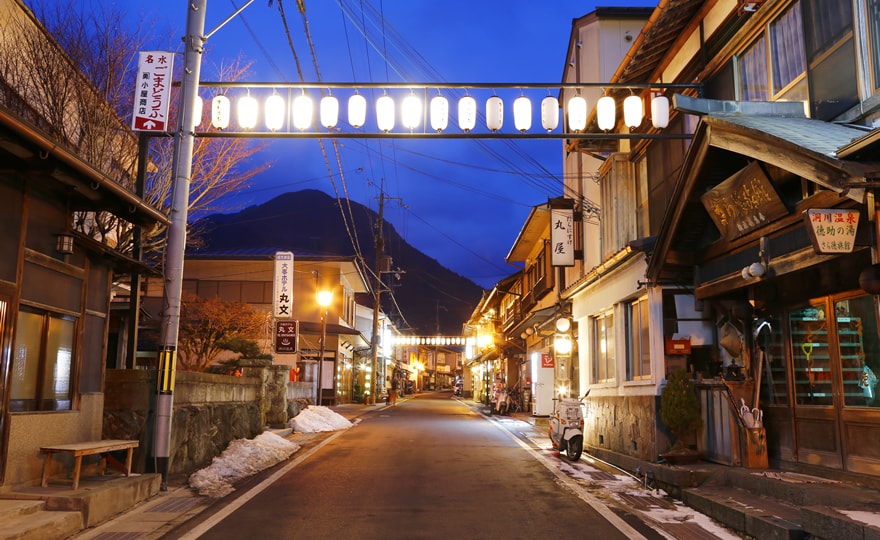 Dorogawa Onsen
The hot springs are located at the foothills of Mount Omine and its ryokan (Jaoanese style inns) exhibit the old-world charm of structures that once served as lodges for pilgrims to the mountain. Be sure to experience the aromatic outdoor pine tubs and sacred waters at the ryokan.
Nara Yoshino-cho Tourist Information Center
Nara Yoshino-cho Tourist Information Center is located to the side of the taxi concourse in front of the Yamato-Kamiichi station on the Kintetsu Yoshino Line. At the tourist information center visitors may not only receive useful regional guies and panphlets, and get their inquiries answered by proffessionals, but also rent a bicycle. The entire team at the Yoshino Tourist Information Center warmly welcomes all the visitors to Japan, and is more than happy to assist you.
Tour Yoshino on a bicycle
Variable gear and electric bicycle rental is available at Yoshino Tourist Information Center. The bicylces can be rented only to persons above 11 years of age (middle school pupils) and older. There is no bicycles for children available.
Route points of interest
Mount Yoshino in its entirety is inscribed as a World Heritage Site. Visitors can hike its trails and experience the majesty of nature and explore World Heritage buildings. There are also ropeway walks and shuttle buses (variable schedule during the cherry blossom season) from which you can enjoy stellar views.
Hours of operation: 9:00AM - 5:00PM
Holidays: every Wednesday (where Wednesday is a holiday, closed the following Thursday)
Nara Onsen & Gourmet
Onsen [hot springs]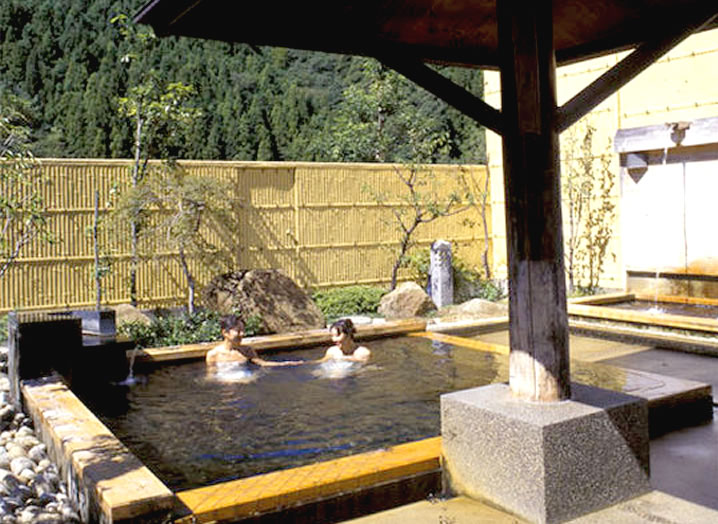 Totsukawa Onsen Village
Totsukawa Onsen are considered one of Japan's top three secluded hot springs destinations. The hot springs have its source at a sodium bicarbonate spring at which charcoal deposits were discovered. The waters were opened to the public in 1974. Today, the area has thrived as a central hot spring resort.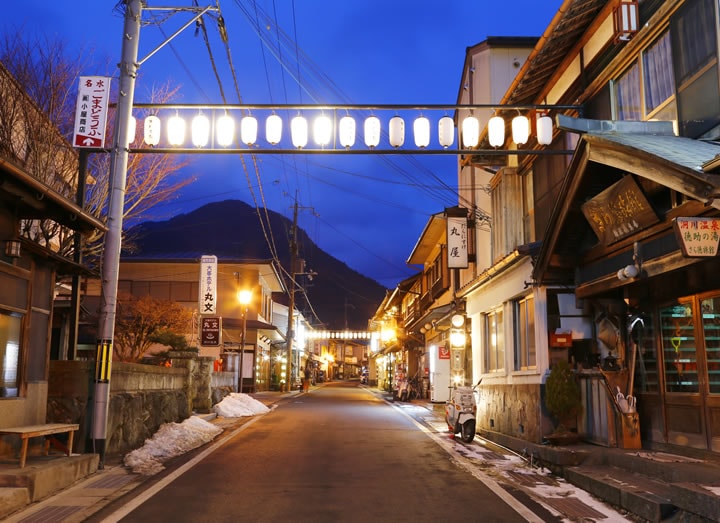 Dorogawa Onsen
Dorogawa Onsen bubbles up at the entrance to Mount Omine, the birthplace of Shugendo mountain asceticism, where women were traditionally forbidden from entering the precincts. The hot spring buildings in the village exhibit the old-world charm of structures that once served as lodges for pilgrims to the mountain. Be sure to experience the aromatic outdoor pine tubs and sacred waters.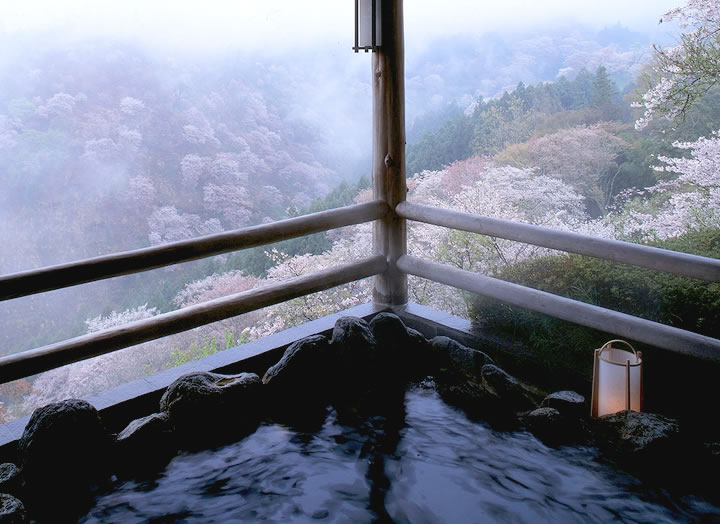 Yumoto Hounoya Onsen
In a hot spring ryokan (Japanese style inns) located in Naka-Senbon of Mount Yoshino, Yumoto Hounoya guests may enjoy a panoramic view of Mount Yoshino and beautiful views of cherry blossoms in the spring and crimson leaves in the autumn from the outdoor hot spring. The hotel also offers "Ayurveda" (reservation necessary) sessions to its guests. Combining Ayurveda and the hot spring experience is recommended for achieving a complete relaxation of body and mind.
Gourmet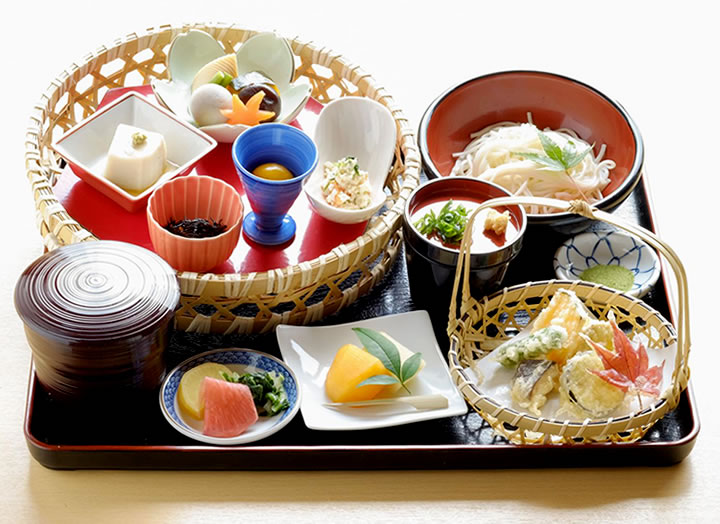 Kisetsuryouri Hatsune
The restaurant serves a variety of dishes that make use of seasonal Yoshino ingredients. The Kudzu Platter, is recommended for those who would like to try the local speciality, "kudzu", Japanese arrowroot. Other dishes include nutritious boar meat hot pot and stewed duck sukiyaki. Here, guests are invited to spend a moment to savor delicious food amidst the bounty of nature.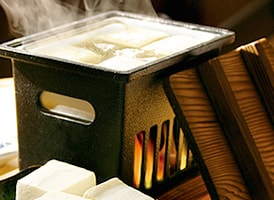 Tofu Chaya Hayashi
Tofu Chaya Hayashi is a tofu house that focuses on making tofu exclusively with domestic ingredients (soybeans, water, salt) and with traditional methods. Each piece is carefully crafted using techniques handed down over the years. The restaurant sells special platters revolving around tofu dishes, and there is an area where you can try tofu ramen. Tofu Chaya Hayashi also sells a wide selection of sweets.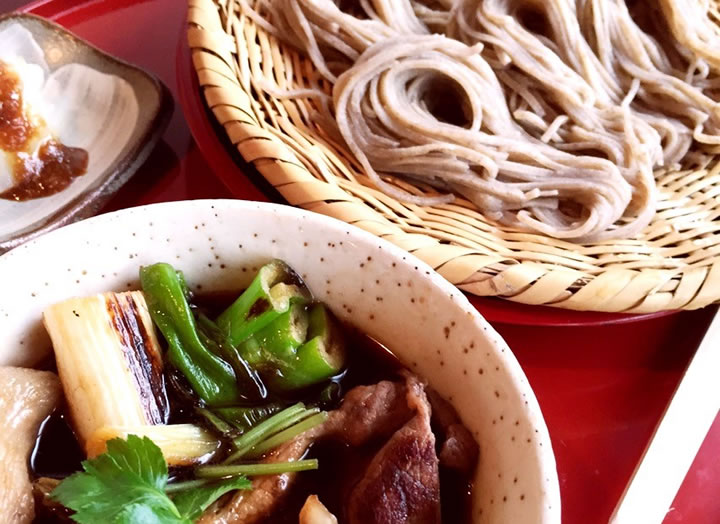 Yamatoan
This soba noodle restaurant uses water from Mount Yoshino and buckwheat grown on Mount Yatsugatake. The soba noodles are handmade by a chef who mastered soba noodle making in the Shinshu area prior to opening this restaurant in 2011. The restaurant building was originally a traditional style Japanes house, later renovated into a restaurant. Yamaoten customers may enjoy their meals in a stylish dining area, with a homelike atmosphere.

Wakayama Recommended Route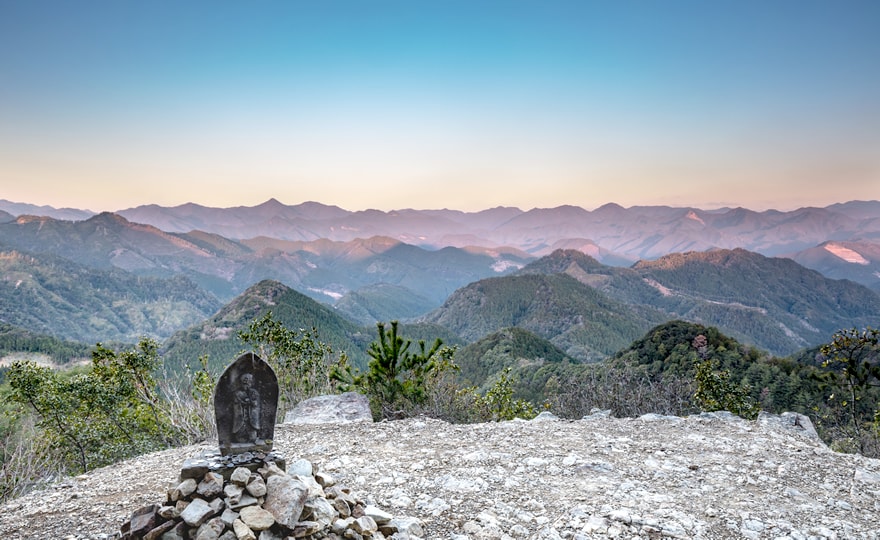 Hyakkengura
Ascend past the Kogumotori-goe Section point on the Kumano Kodo to have Hyakken-gura, an exquisite panorama, unwind before your eyes. This is a sacred site where it is said that "the spirits of the dead and living coexist". Small and somewhat cute Jizo statues are lining up here, greeting the visitors to the scenic Hyakken-gura and watching over their safety.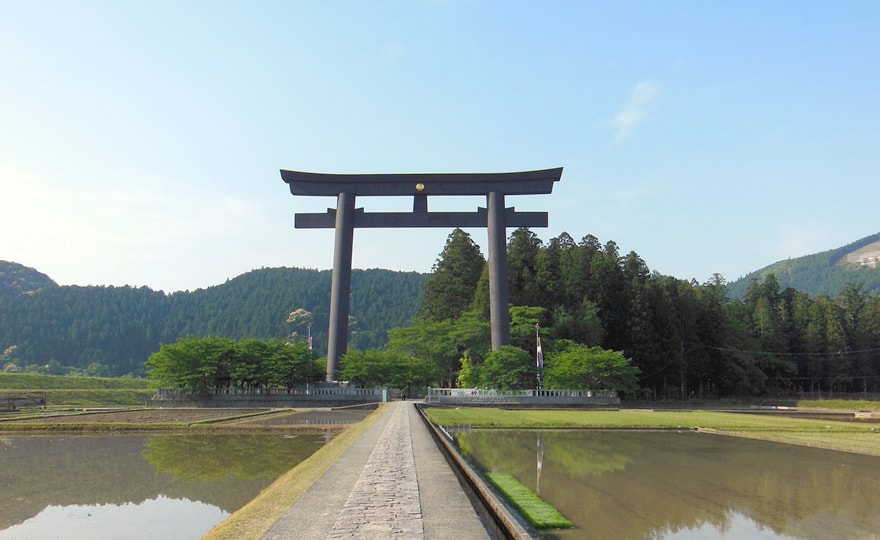 Oyunohara
Oyunohara is a site where it was said that a god descended. In 1889, massive flooding swept away some of the shrines, with the remaining four being relocated to Kumano Hongu Taisha Grand Shrine. However, still, today the site enjoys a high populairty, with its maginificent, Japan's largest torii gate (a gate marking entrance to a shrine) standing proudly here. This site is where pilgrims to Kumano came after their long journey.However, still today the site enjoys a high popularity, with its magnificent O-torii, Japan's largest torii gate (a gate marking an entrance to a shrine), standing proudly here.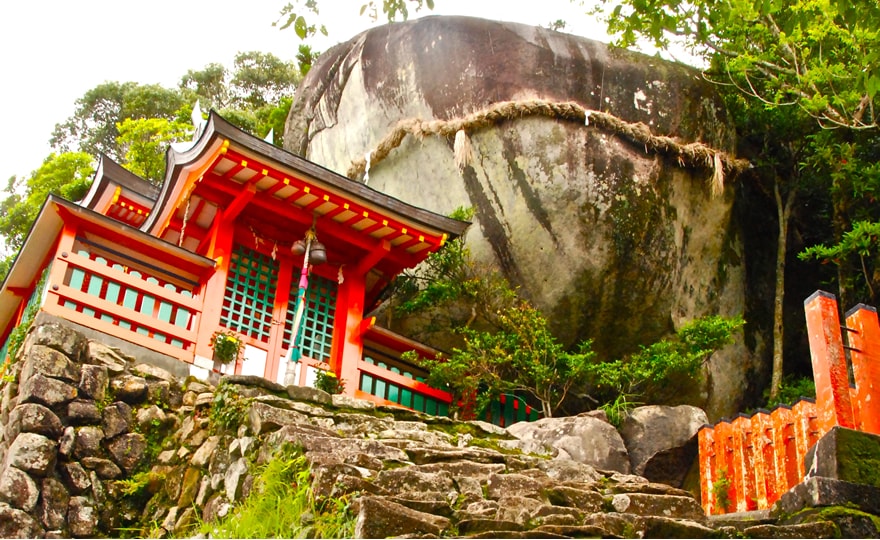 Kamikura-jinja Shrine
Kamikura-jinja Shrine is a sacred site that could be described as the very locus of worship in Kumano. After ascending the steep stone steps visitors can find a giant rock next to the red-lacquered shrine. This rock is referred to as the "Gotobiki-iwa Rock." Gotobiki is the local term for toads. The name, as one may gues, comes from the fact that the rock resembles a giant toad. The imposing appearance of this stony creature is surely impressive and suprises many visitors each day.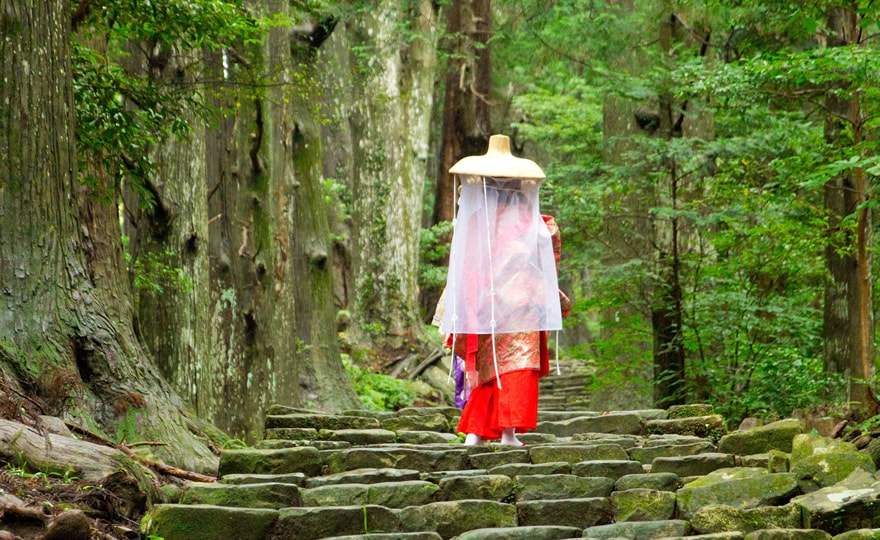 Daimon-zaka Slope
The flagstone walk is covered in moss, with old cedar trees enveloping the Daimon-zaka Slope, and is brimming with the signature look of an ancient path. While strolling through the trails, visitors are moved back in times to the age of ancient pilgrimages. The shops at the Daimon-zaka Slope rent gorgeus costumes from Heian period (794-1185) to help the visitors complete their "time-slip" pictures.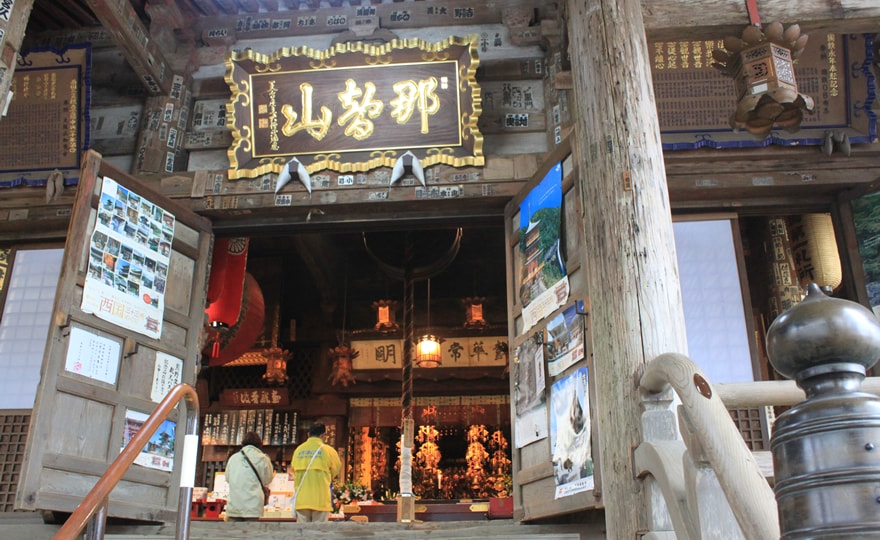 Nachisan Seiganto-ji Temple
This is the first sacred site along the thirty-three sacred sites pilgrimage in western Japan. The main hall was rebuilt by Toyotomi Hideyoshi and is inscribed as a nationally important cultural property. The vivid red lacquer of the three-story pagoda dates to 1972, when it was rebuilt. The natural backdrop of a Nachi Primeval Forest and the Nachi Waterfall stir visitors' heartstrings.
This is the first sacred site along the thirty-three sacred sites pilgrimage in western Japan. The main hall was rebuilt by Toyotomi Hideyoshi and is inscribed as a nationally important cultural property. The vivid red lacquer of the three-story pagoda dates to 1972, when it was rebuilt. The natural backdrop of a Nachi Primeval Forest and the Nachi Waterfall stir visitors' heartstrings.
Get the most out of your hike with a professional cicerone! Go with Kataribe!
With its natural environs, Kumano is known as a destination for natural worship. The area has been respected as a sacred site of relaxation and rebirth where various gods reside. A Kumano therapist will accompany you along the routes and act as your cicerone (kataribe) while you practice stretching and relaxation activities amidst nature, refreshing both body and mind.
Sample: Nakahechi Route
Hosshinmon Oji -> Mizunomi Oji -> Kujuku Oji -> Haraido Oji -> Kumano Hongu Shrine (about 4 hours)
Inquiries:
Wellness Healing Kumano
Tel: 0735-42-0118
Please apply by at least one week in advance of your desired date. Note that we may be unable to accommodate you if there are prior bookings. We encourage you to book early.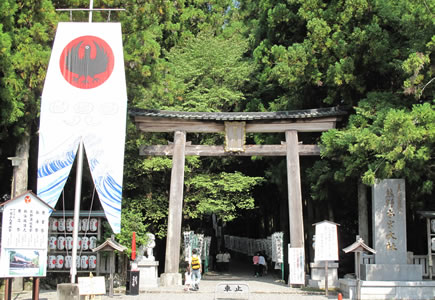 Wakayama Onsen & Gourmet
Onsen [hot springs]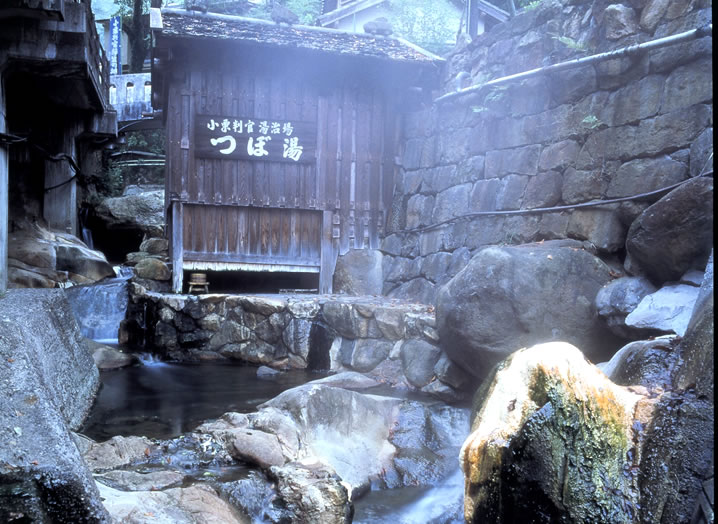 Kumano Hongu Onsen Village
Kumano Hongu Onsen Village consists of 3 hot springs. Kawayu Onsen, are said to have sprung up after digging a local river, Yunomine Onsen, with water, the color of which is said to change seven times daily, and Wataze Onsen, an area enveloped in greenery and clear streams. It is recomended for the visitors to try all of the hot springs, enjoy their different benefits, and variety of the structures and sceneries around.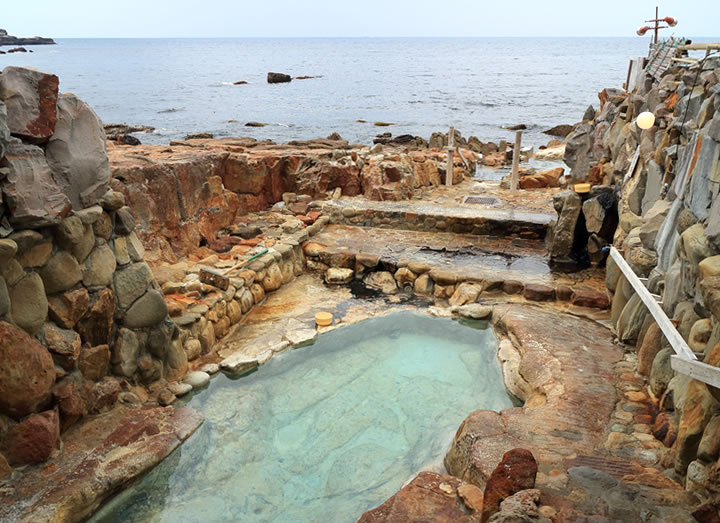 Shirahama Onsen
Since as far back as the Asuka (550-710) and Nara (710-794 CE) periods, this site has been referred as the "Muro Onsen" and "Ki Onsen", and it was visited by Emperor Monmu and other famous courtiers. This hot springs site is said to be over 1,300 years old. In the area visitors can also find Adventure World, an amusement park famous for twin pandas, and Shirahama Beach, selected as one of Japan's 100 finest beaches.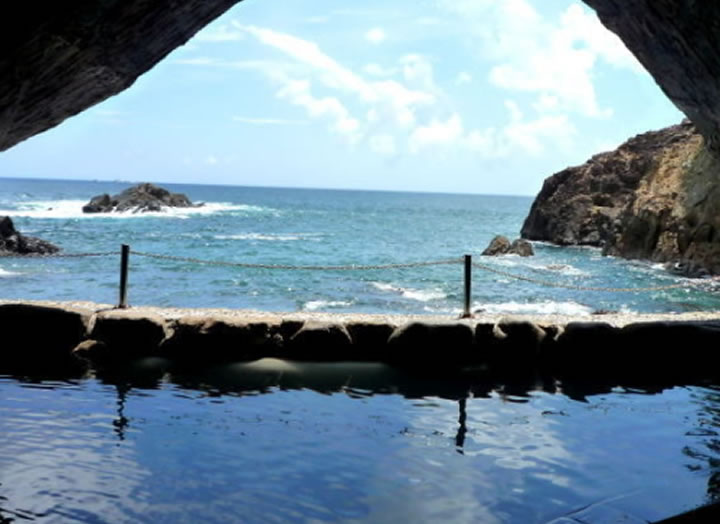 Katsuura Onsen
Nachi Waterfall, located at the foothills of Mount Nachi is Japan's highest waterfall. Here, along the water, visitors can find a hot springs resort. Its cavernous outdoor baths look out on the natural beauty of the Kumano Sea, and Kumano Bay. Soak in these potent baths to savor the blessings of nature and feel restored to health.
Gourmet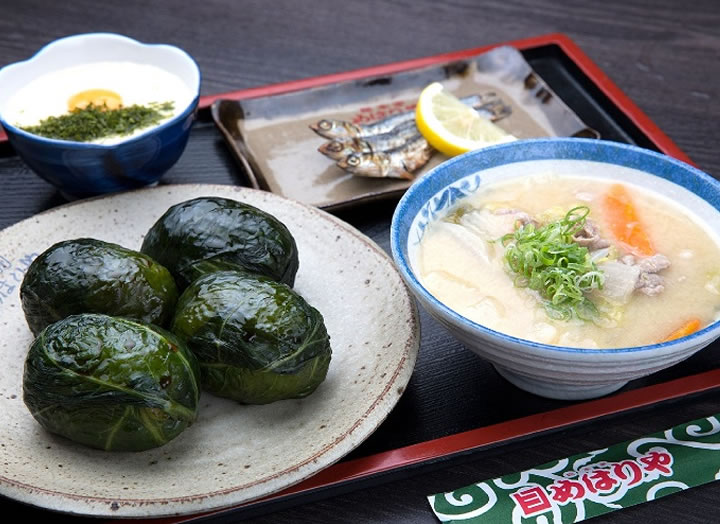 Sohonnke Mehariya
Sohonnke Mehariya serves "mehari-zushi", a delicacy of the Kishu area in which rice is wrapped in pickled mustard leaves. The large leaves make it easy to eat thes "sushi" rice balls, and give off a signature aroma and simple but rewarding flavor. "Mehari-zushi" makes a perfect hiking food to carry on the Kumano Kodo hike.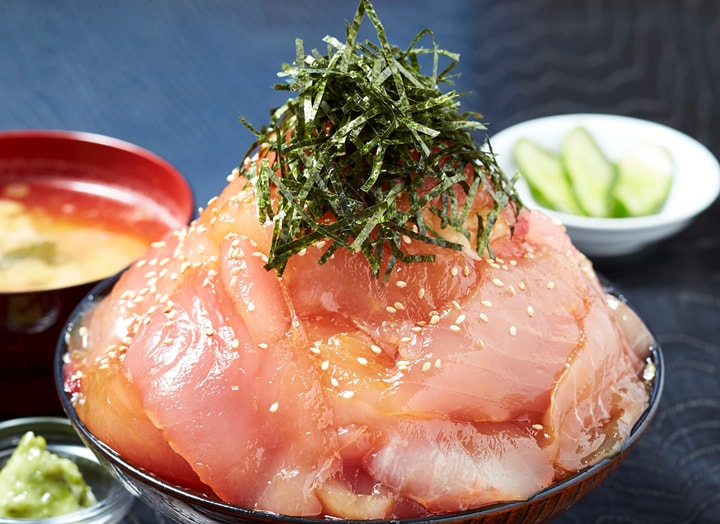 Kinsei
Many will associate Katsuura with tuna. That's right! So you can't go home without sampling some of the exquisite tuna caught right in Katsuura Bay. Kinsei is a tuna brokerage located in Funami-jaya Teahouse Remains that sells tuna for reasonable prices. You must try the outrageously-topped tuna rice bowl, piled high with food.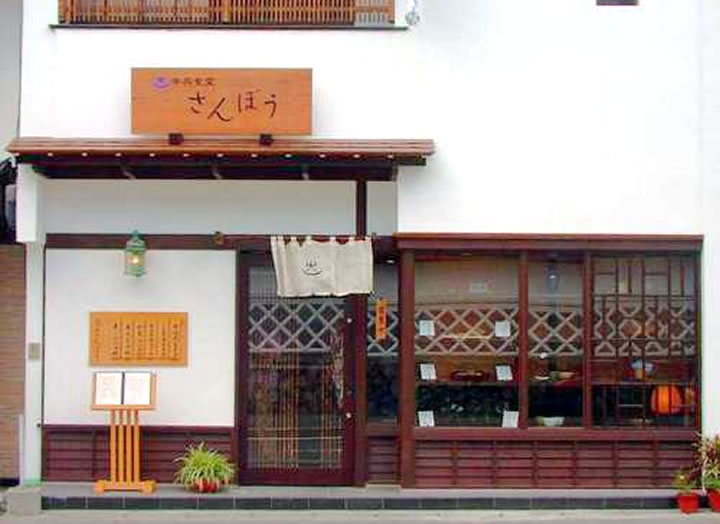 Chuoshokudo-Sannbo
Traditional Buddhist cuisine eschews meat, fish, and stimulants like scallions and garlic. Chuoshokudo-Sannbo specializes in an accessible form of this cuisine. Even dishes that resemble meat or fish are in fact made exclusively from vegetables, legumes, and the like. Like they say,"When in Rome...," why not sample what this cuisine is all about?

Mie Recommended Route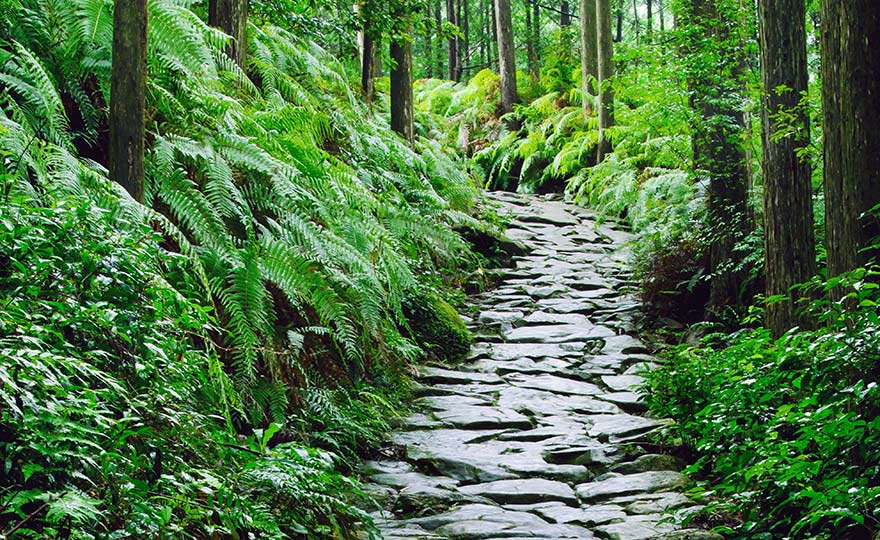 Magose-toge Pass
Kumano Kodo, is mostly connected with the image of Magose Pass. Located along the Iseji Route on the Kumano Kodo, here visitors can find beautiful flagstones and cypress trees. Yonaki-Jizo statues have been cherished as idols to which the parents of children with colic prayed since ancient times. These and other traditional elements still remain here.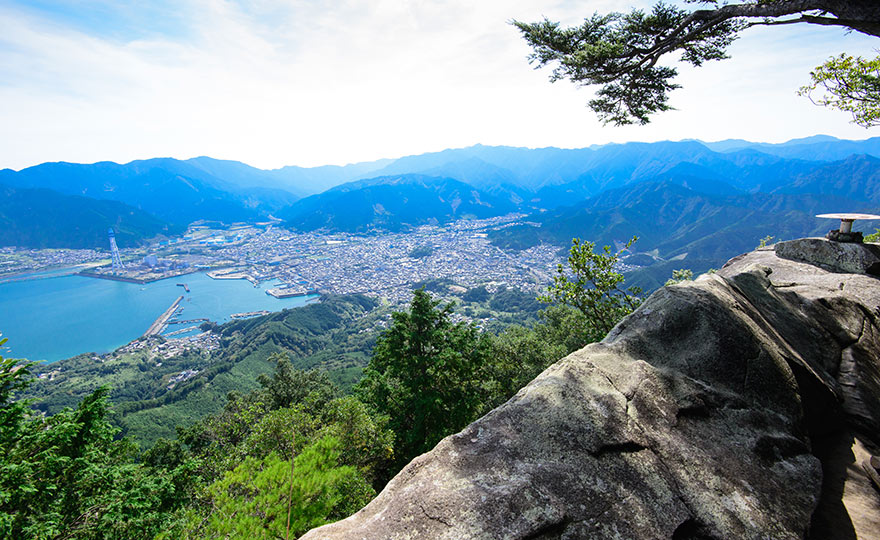 Mt.Tengurasan
After passing the Magose Pass and reaching the mountain peak, visitors will find a large rock, known as Tengu Rock (Goblin Rock). The name comes from the legends that proclaim the steep path here, to be the the home of goblins. By the Tengu Rock, there is a ladder, that can be used to climb to the top of the rock. From here, visitors may enjoy scenic views of Owase Bay, the city, and the Kumano Sea.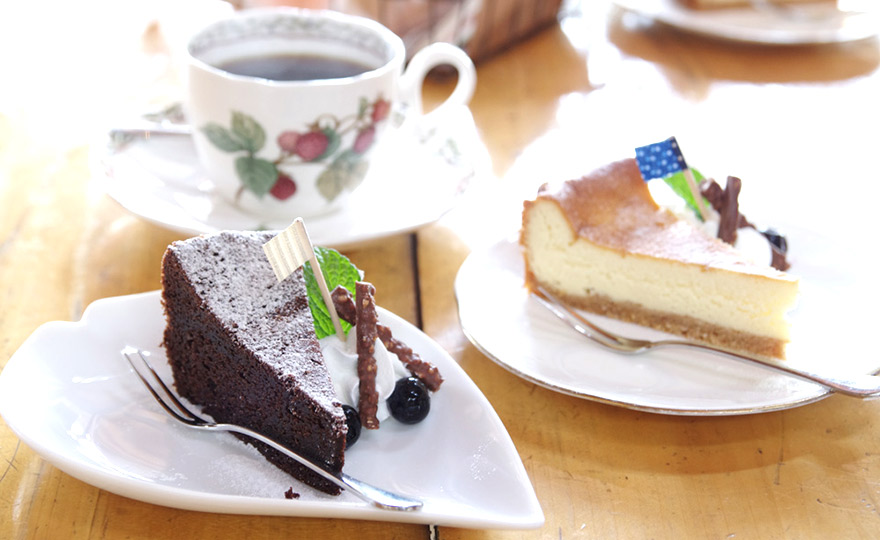 Sankirai
Sankirai is a teahouse in the style of a mountain cabin located along the Magose Pass on the Kumano Kodo. The owner is a nutritionist and self- handedly prepares breakfasts, desserts, and handmade juices. Sankirai makes a perfect place for a short break on the Kumano Kodo hike. Sankirai also offers simple lodgings.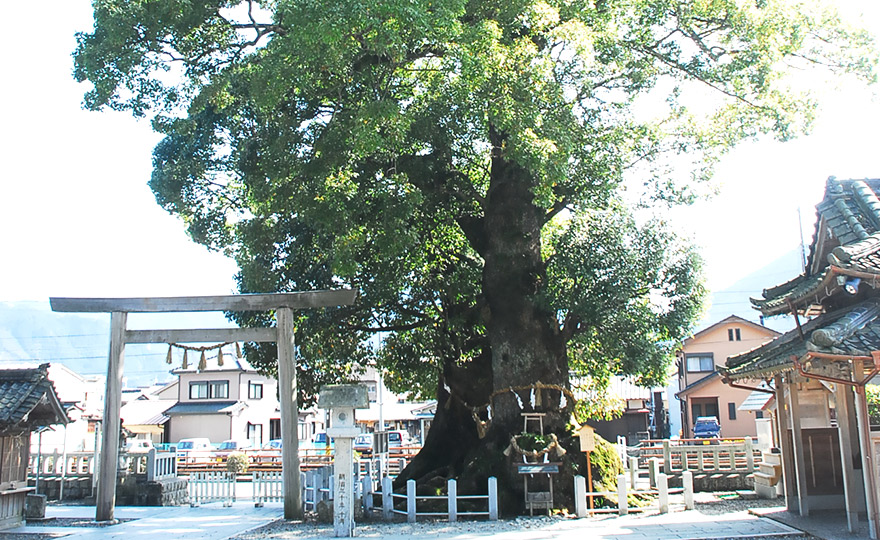 Owase-jinja Shrine
Dedicated to Susanoo-no-Mikoto, this shrine has long acted as the patron shrine of Owase. Local festival, Ya-ya Festival is held here each year between February 1st to 5th, and is noted for the unusual and high-pitched screams people make. On the grounds of the shrine visitors may find two massive camphor trees. They are held to be over 1,000 years old and stretch out into the trail.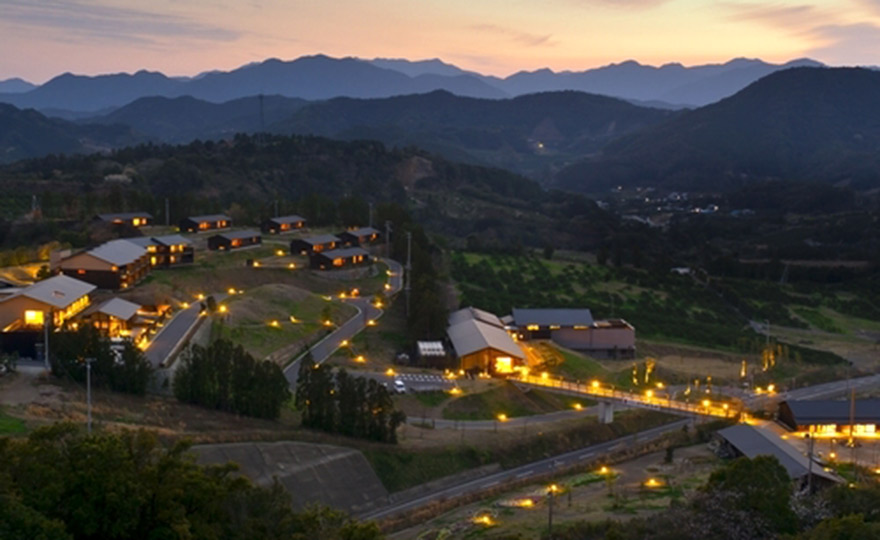 A night in Kumano
Stay overnight in a Kumano lodge. After rubbing elbows with the gods during your walk, visit a lodge to enjoy food prepared with local ingredients and soak in a hot spring. Your body and mind are sure to be purified. You will also find lodges hosting tours with their own kataribe guides, so be sure to check them out.
Mie Get more out of your walk! Go with Kataribe.
The Kihoku Town Tourist Association is now offering free English-language guided tours of the Magose Pass every Sunday.
This route takes 1.5 hours one way, with a guide showing you the sights and explaining the history behind them. This popular route on the border of Kihoku Town and Owase is the only one on the Iseji Route that contains flagstones, which span along a beautiful forest route lined with Owase cypress trees. There are also historical remnants like Yonaki-Jizo statues. You will truly feel like you have come to the Kumano Kodo when walking this route.
Sample route through the Magose Pass
Michinoeki-Miyama -> Yonaki-Jizo -> Stone Bridge -> Magose -> Stone Bridge -> Michinoeki-Miyama Round trip takes about three hours.
Booking, pricing, and inquiries
The tour departs at 10:00 every Sunday from Michinoeki-Miyama.
No advance booking is required; please arrive at the meeting point by 9:50 AM.
The first 20 people to arrive, may participate free of charge.
Kihoku Town Tourist Association telephone number: 0597-46-3555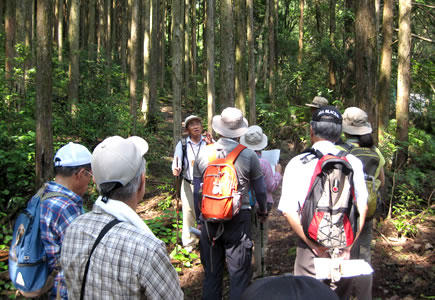 Mie Onsen & Gourmet
Onsen [hot springs]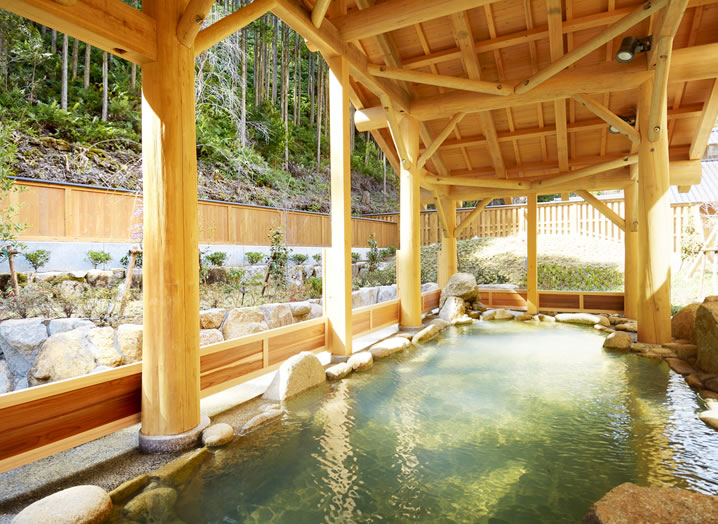 Yunokuchi Onsen
Considered a secluded getaway for natural hot springs and a local bath soothing the cares of locals, Yunokuchi Onsen have long been beloved by many. The site has been newly renovated and reopened as a hot springs with the rich aroma of Kumano lumber. Soak in a rich and healing bath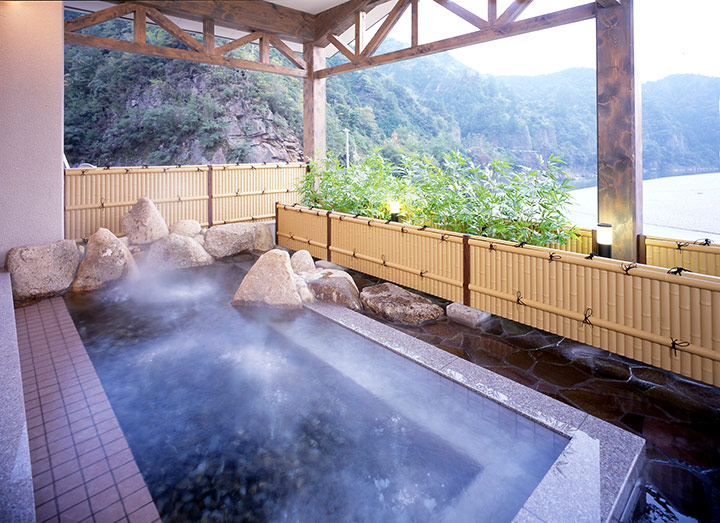 Iruka Onsen
This hot springs bubble up along the Kitayama River, a destination known for Dorohaccho ravines, a place of scenic beauty. Seiryuso Resort, with a pool zone designed for convalescence and the Yasuragi pool area, featuring outdoor baths, is located here. Seiryuso Resort has everything you need to enjoy the full hot springs experience.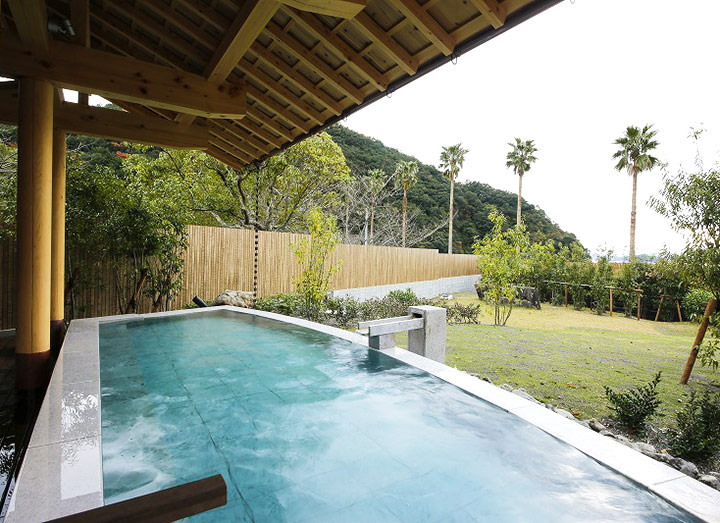 Kihokusennen Onsen
Kihokusennen Onsen can be enjoyed in Kihokusennen Onsen Toki no Za Hotel. The hotel was opened in 2008 at a natural hot springs site that spans 1,800m below ground. The Mokutei building is a secluded getaway with both indoor and outdoor baths. Guests can also reserve exclusive use of an outdoor bath, or make use of soothing footbaths.
Gourmet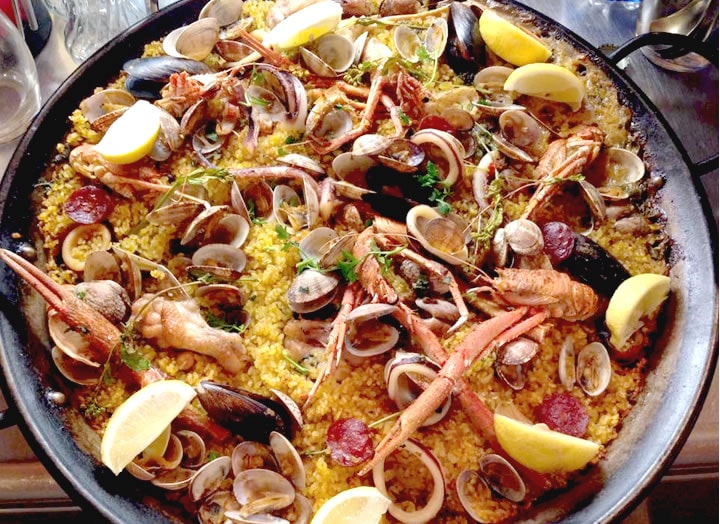 To Cous Cous
Kumano is a sister city of Sorrento, located in Italy's Campania region. To Cous Cous is a Neapolitan cuisine restaurant that uses local ingredients, and is located along the Kumano Kodo Route. The owner is officially licensed as a chef by the Greek government. The menu also includes gourmet Greek cuisine, that is believed to date back to the BCE era.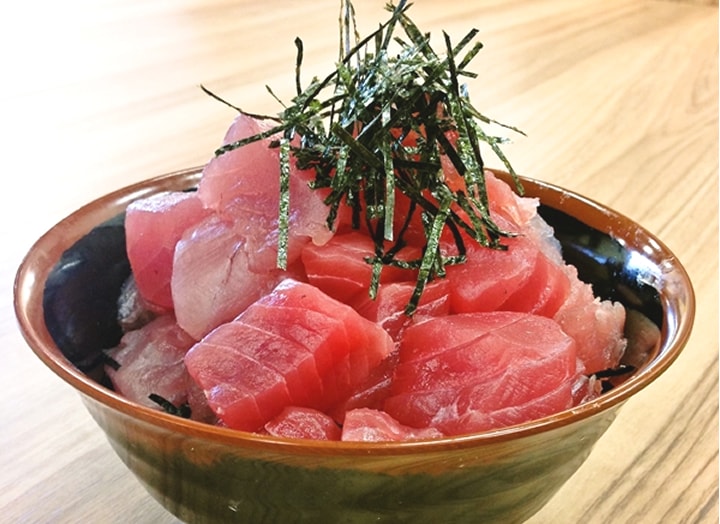 Osakana Ichiba Ototo
This is a direct sales store offering local specialties and operated by Owase Bussan, a producer of marine products. There is fresh fish caught in Owase Bay, aquaculture, and even the direct sale of tuna caught right on the company's own Roei-maru boat! The restaurant serves rice bowls with freshly-caught fish and a daily rotating menu of local foods.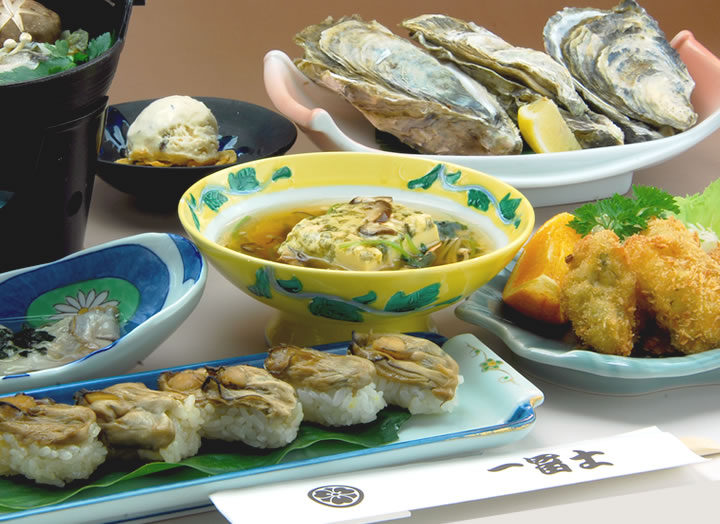 Ichifuji
Ichifuji offers a variety of oysters that are grown in a nearby Lake Shiraishi, that has just 5km in circumference. This is a brackish lake with minimal saline qualities, oysters grown in it are not overly salty, free of odor, and with a signature sweet note. In a winter season, customers may enjoy the season sepcial oyster full course meal.