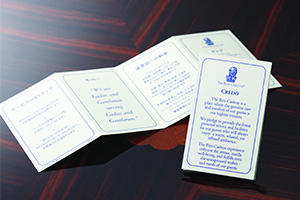 All employees carry a copy of our credo.
The Ritz-Carlton Tradition of Superior Service
We at the Ritz-Carlton are responsive to the expressed and unexpressed wishes and needs of our guests.
We do everything in our power to fulfill the words in our credo. We strive to be constantly aware of guest preferences, concerns, and subtleties of mood to provide service that feels as personal as possible. There are many stories of exceptional service that have reached legendary status.
For example, when a guest casually mentioned that oranges were their favorite food during a short conversation with a staff member, they found oranges placed in their room on their next visit. Should a guest request low-irritant pillows, those pillows are provided as a matter of course at every Ritz-Carlton in the world.
There are endless moving stories by guests who have been touched by the above-and-beyond service of Ritz-Carlton. One guest recalls how they forgot their reading glasses in their room, and a concerned housekeeper personally delivered them from Osaka to Tokyo the next day. Another guest tells how a staff member personally searched for contact lenses they had lost in the pool.
A housekeeper taking off work to deliver a forgotten item, or searching for seemingly impossible to find contact lenses, shows our incredibly high standard of service. At the Ritz-Carlton we prioritize the interests of our guests and make it possible for staff to deliver hospitality far beyond the ordinary.