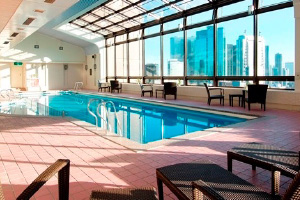 Fitness Center, Pool, and Saunas
A fitness center, pool, saunas, and massage room are available exclusively to our guests for rejuvenation and relaxation. Gym clothes and bathing suits are available for rent (charges may apply), and paid lessons are offered exclusively to hotel guests.



Salons & Beauty Care
Pass the time in supreme bliss in any of our elegant salons and clinics dedicated to rejuvenating mind and body and relieving everyday fatigue. On-site salons include the Tamaki Esthetic Salon, the first in the world to incorporate dietary supplements, the Esthetic Salon Guerlain Paris, a nail salon, and a dental clinic.
Please contact the number below for details about facility hours, pricing, and to make an appointment.
Contact/Reservations: 03-3504-1111 (agent)