San'in Kaigan
UNESCO Global Geopark

Tottori Sand Dunes (Tottori)
San'in Kaigan
UNESCO Global Geopark

Sarubo Waterfall (Hyogo)
San'in Kaigan
UNESCO Global Geopark

Byobu Rock (Kyoto)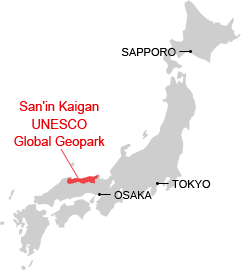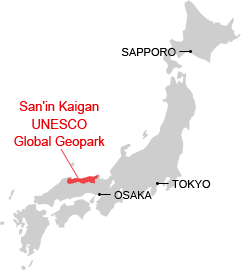 Once in a life time scenic drive experience in San'in Kaigan UNESCO Global Geopark
More than a few people have been captivated by photos of stunning views and become inspired to travel. This is because the grandeur of nature has the power to drive both your hearts and bodies.
There are many tourist attractions in San'in Kaigan region, a still relatively unknown area rich in superb nature.
When you feel "I'd love to be there!" it's time to kick off your trip. Even if you don't realize it, your heart might be trying to tell you so.
Now head on to San'in Kaigan UNESCO Global Geopark to satisfy your longing.
Enjoy the beauty of San'in Kaigan in the comfort of your rental car
The recommended way to travel through San'in Kaigan UNESCO Global Geopark is by rental car. You can return your rental car at a different location from where you rented it. It makes it easier for you to travel around and cover whichever spots you like. When you travel to San'in by air or by rail, please don't forget to make a rental car reservation.
*One-way service is not available at some car rental companies.
DRIVING IN JAPAN:
WHAT YOU NEED TO KNOW
Driving in Japan can be a delight,
the sceneries around are beautiful and the roads are well maintained.
However, mind that the rules and regulations may vary from your country.
Driving Permit
Tourists in Japan are required to be in possession of International Driving Permit (IDP) issued by countries contracting in 1949 Geneva Convention or Japanese Driver's License. IDP needs to be obtained prior to arrival in Japan, and cannot be renewed or re-issued in Japan. You should check your own country's embassy for more details. If your country is not in the scope you can obtain a Japanese Driver's License, which however, is more complex and difficult. Rules for obtaining it also depend on your country of origin.
Traffic Laws and Regulations
In Japan cars drive on the left-hand side of the road, while the driver's seat is on the right-hand side of the vehicle.

All passengers are required to have their seatbelts fasten and children under 6years old to be seated in a designated child seats.

Typical speed limits are 80 to 100 km/h on expressways, 40 km/h in urban areas, 30 km/h on side streets and 50 to 60 km/h elsewhere.

There is a zero tolerance rule for drunk driving in Japan. Even a smallest amount of alcohol in your blood may cause you to face fines and/or other penalties, often even a court case.

By law you are required to bring your vehicle to complete stop in front of a train track each and every time you are about to cross it, and that is even if you are following another vehicle.

Above are unique to Japan car sticker markings. When you are overtaking or driving behind cars with such stickers pay extra attention and avoid dangerous maneuvers.
Be aware!
Red Lights:
We definitely advice against the practice, however, you should be aware that many Japanese drivers cross on the red and yellow lights if there is no oncoming traffic. One definite rule is that driving on the red light is against the law (including turning left).

Cyclists
While driving be aware of reckless cyclists cutting in, especially while turning left, or those cycling on the wrong side of the road.
ETC tollgates:
On entering an expressway, you may face the ETC sign. It means Electric Toll Collection System (ETC). ETC is an exclusive toll system for highways that makes it possible to pass the tollgate without stopping and it is issued only to Japanese residents. If you are not in possession of the ETC system avoid the ETC gates as any other ways of payments are not possible there. You should use the general lane ("一般" in Japanese characters) instead.